Product Description
The  USB-AUDIO is an easy way to instantly add a headphone and a microphone jack to almost any USB-enabled PC or laptop. Featuring a black aluminum shell with a clean, compact design, this USB audio adapter installs without needing to load any additional drivers. It's as simple as setting this adapter as your default audio output and input device and off you go, listening to your favorite tunes and recording with ease.
This audio adapter really shines with custom Linux development boards like the Raspberry Pi, Beaglebone Black, and other unique scenarios such as a "Hackintosh" setup where the onboard audio devices do not have Mac drivers. 
System Compatibility
    No additional drivers necessary. Compatible with standard built-in "USB Audio Class" drivers which are already integrated into most operating systems including Windows 10, 8.1/8, 7, XP, Linux, Mac OS X and Chrome OS
    The USB Type A connection gets plugged into the computer and you gain one 3.5 mm (1/8 inch) stereo output jack and one 3.5 mm (1/8 inch) mono microphone input jack
    The USB-AUDIO is USB bus powered, so no external power is needed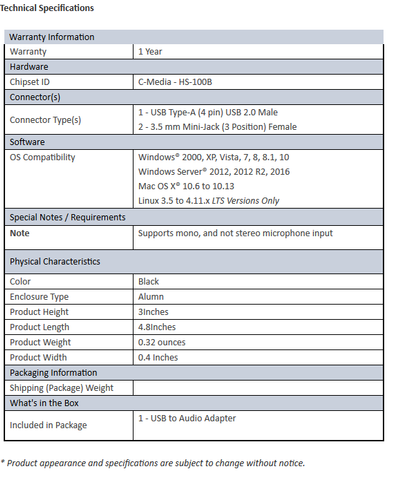 Microphone Compatibility
    The USB-AUDIO has been designed to accommodate common headsets which feature a 3.5mm TRS headphone- and 3.5mm TRS microphone jack. If you have a TS microphone, a 3.5 mm (1/8 inch) mono to stereo adapter is necessary to adapt the microphone from TS to TRS (plese see descriptive image below).
    XLR based microphones (even if adapted to a different interface such as 3.5mm TRS) will not work with this audio adapter. 48V of additional Phantom Power is needed to make this work. The audio adapter does not provide Phantom Power.
    Although the microphone port on this audio adapter is TRS, it is still however a mono microphone port. If you playback the recorded audio you technically hear the right channel duplicated.
    The adapter is not compatible with the HyperX line of headsets due to an incompatible plug configuration for the built-in microphone and their included single plug to double plug adapter.   
 Product appearance and specifications are subject to change without notice.
FAQ
Is the USB-AUDIO Windows 10 compatible?
Yes, with the 64-bit version of the Operating System. The 32-bit version of Windows 10 can have audio issues on some tablets. Windows 10 is still quite new, so hopefully issues such as this will be fixed by Microsoft in future updates. Microsoft in the meantime recommends to perform a clean Windows 10 install on tablets to fix the USB related audio bug.
I plug in the USB-AUDIO and I don't hear anything, what else can I do?
An extra step is needed. After plugging in the USB-AUDIO, also ensure the audio adapter is set to be your primary playback- and recording device in your control panel or system preferences.
Does the USB-AUDIO need drivers to work?
No additional drivers are necessary, they are already built-in to almost all modern operating systems. Simply go to your system settings and select the USB audio device as default input and output device. 
Why doesn't my microphone seem to work or record?
Most microphones or headsets on the market today house a TRS (Tip Ring Sleeve) jack and the USB-AUDIO is designed to accommodate this. Mono or TS (Tip Sleeve) microphones will need a 3.5mm mono to stereo adapter installed in line in order to work (TS vs TRS reference) converting TS to TRS. XLR microphones (even if adapted to 3.5mm TRS) will also not work.
Can I use the USB-AUDIO output as well as the default output jack at the same time?
No. Most operating systems support multiple audio devices, but only allow a single one to be enabled at a time. So the manual step of selecting the preferred audio output from the operating system's built-in audio control panel is essential.
Do any Android devices work with this audio adapter right out of the box?
We have found certain devices such as the Samsung Galaxy S4 SGH-I337 (Android 4.4.4) and the Samsung Note 4 (Android 4.4.4) SM-N9104 to be compatible right out of the box. The best approach is research or ask the manufacturer if the Android device in question is compatible with the C-Media HS 100B Chip.