USB 3.0 Type-A to 2.5 Gigabit Ethernet Adapter - 2.5GBASE-T
USB LAN Adapter | IEEE 802.3bz | 2.5 Gbps | Mac | Windows® | Linux
Notes - The Network must support 2.5Gbps Ethernet speeds over Cat5e + cabling.
Add 2.5 GbE network access to your laptop, using the USB-A port on your laptop. This USB 3.0 Type-A to Gigabit network adapter gives you wired Ethernet network access.

Ideal for office or home use, the network adapter supports full 2.5 Gigabit bandwidth by harnessing the performance of USB 3.0. You can quickly access very large files over a 2.5 Gigabit network, saving valuable time every day.

Get up and running quickly. Simply plug this USB-A to Ethernet adapter into the USB port on your laptop and connect to your network. Compact and portable, this USB Gigabit network adapter is the ideal desktop network adapter or laptop accessory. You don't have to carry a power adapter with you to use it, because it's powered directly from the host USB port.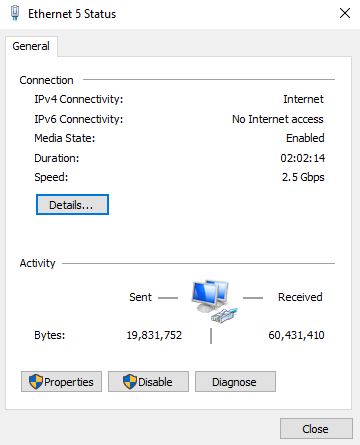 Features

■ Convert USB Type-A port into a standard RJ45 2.5 Gigabit Ethernet port.
■ Up to 2.5 Gigabits per second for up to (at least) 100 meters
■ Compatible with existing Cat5e or better cabling
■ IEEE 802.3i, 802.3u and 802.3ab (10BASE-T, 100BASE-TX, and 1000BASE-T) compatible
■ Bus-powered, with no power supply needed
■ OS compatible - Windows 10/8.1/8/7 , macOS 10.15 and Linux.
■ Compact, lightweight design for maximum portability
Download
■ flykantech.com CUG025 - Technical Specifications
■ flykantech.com CUG025 - Datasheet-v2.0-200807 | PDF | 
Printing Documents
■ flykantech.com CUG025 -DieCut_v1.0_200731 | PDF |
■ flykantech.com CUG025 - Rating_Label_200731 | PDF |
■ flykantech.com CUG025 - SilkPrint-V1.0-200611 | PDF |
---
Notes
1: For Linux and OSX, the USB SetConfig is handled by the system USB framework (USB host controller driver and/or USB bus driver); this behavior cannot trigger 2.5G Ethernet Adapter switching to auto-install mode. As a result, the 2.5G Ethernet Adapter supports auto-install mode in Windows only. For Linux, 2.5G Ethernet Adapter supports a built-in in-house/ECM/NCM driver. For OSX, 2.5G Ethernet Adapter supports a built-in ECM/NCM driver; users can also install an in-house driver. 

2: Microsoft Wake Packet Detection (WPD) to provide Wake-Up Frame information to the OS, e.g., PatternID, OriginalPacketSize, SavedPacketSize, SavedPacketOffset, etc. WPD helps prevent unwanted/unauthorized wake-up of a sleeping computer. Refer to the Microsoft Wake Packet Detection (WPD) Interface Specification for details (http://msdn.microsoft.com/en-us/library/hh440160(v=vs.85).aspx). 

3: 'RealWoW!' (Wake - On - WAN) Technology allows the2.5G Ethernet Adapter to send keep-alive packets to the Wake Server when the PC is in sleeping mode. 'RealWoW!' can pass wake-up packets through a NAT (Network Address Translation) device. This feature allows PCs to reduce power consumption by remaining in low power sleeping state until needed. Users can login into the Wake Server via the Internet to wake the selected sleeping PC. Registration of Account information to the Wake Server is required on first time use.